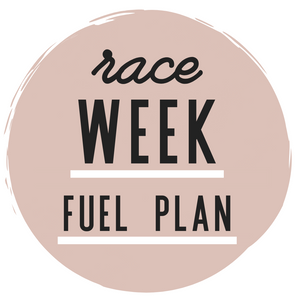 Race Week Fuel Plan $240
For endurance events (such as running, cycling, triathlon races) and team sport competitions (games, meets, matches, or tournaments). This plan includes race/competition day(s), and the preceding week to help reduce stress and increase confidence for any competition. The custom plan is created based upon your past competition experiences, what you have practiced in training, projected conditions, performance goals, travel logistics, and dietary or taste preferences.
Race Week Plan might be for you if you:
Have questions about "carb loading" or glycogen stores
Are preparing for a particularly hot or humid outdoor event
Want to limit stress the week before your event
Are concerned about nutrition while traveling to an out-of-town event
Are at least 3 weeks out from your event (if it is closer, we may not be able to guarantee a plan turnaround in time – please message us to check)
Race Week Plan includes:
Assessment of Fuel/Hydration Questionnaire to determine personal dietary preferences and nutrition used in past events and training
Plan for Race Day and preceding week (6 days) of practical meals, snacks, and hydration, fully customized for 7 total days.
Detailed instructions for energy and hydration sources to consume pre-event, during the event, and after the event based on event conditions and performance goals
Strategies for dealing with travel and event logistics (making breakfast in hotel room, transporting foods to event, accessing nutrition while competing, etc.)
Tips for adapting plan for unanticipated weather or other common issues
Shopping list, prep instructions, and/or grocery/restaurant suggestions matching your event week schedule or travel situation.